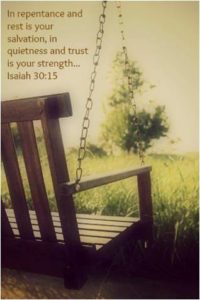 Here we are again. Summertime! It must be with all the rain & thunderstorms but we hope for better now we are into the school holidays.
Sadly, summer holidays can be anything but restful but that is what I am looking forward to shortly. A rest, a few days away in a remote cottage. Away from the telephone, away from the internet, away from responsibilities. Some hopes of that with mobile phones & 4G. The temptation is always there to check emails and keep in touch with what is going on. I counsel you to resist that temptation – take some time away from your gadgets and enjoy the beauty of the natural world around you.
In our modern world we are under the impression that it is good to be busy and that is what life is for. We have somehow lost the idea of complete relaxation, of doing nothing and I believe that is because of the fear of missing out on something.
Let me tell you that constant busyness, keeping in touch with as much as possible via the internet in itself causes us to miss out on so much that is essential for inner peace & harmony. We were created to be busy, yes, but also to take time out – essentially to do nothing – to rest. The Bible has something to say on that too. One day in seven is to be taken away from what normally keeps us busy so that we can spend time with others worshipping God. Not such a popular concept these days but for me absolutely vital to maintain a proper balance in life. It helps me to see that what I want is far less important than what God wants for me.
Here are some words from the prophet Isaiah:
Isaiah 40:28-31 (ANIV)
28  Do you not know? Have you not heard? The LORD is the everlasting God, the Creator of the ends of the earth. He will not grow tired or weary, and his understanding no-one can fathom.
29  He gives strength to the weary and increases the power of the weak.
30  Even youths grow tired and weary, and young men stumble and fall;
31  but those who hope in the LORD will renew their strength. They will soar on wings like eagles; they will run and not grow weary, they will walk and not be faint.
We try to renew & refresh ourselves by all sorts of means. Going to the gym, taking a break, what is euphemistically called 'retail therapy' which in my view is no therapy at all & merely feeds our wants rather than our needs.
During my upcoming break I do hope to enjoy the countryside, some good food & relaxation but I also plan to renew my hope in the Lord. That will strengthen, deal with any weariness, & give me power to continue with what the Lord has given me to do without stumbling or growing faint.
May I encourage you to put your hope in the Lord too, whether you are planning time away or not. Surely that is the best kind of rest & refreshment there can be.
God bless you.